DactyScan84c Green Bit Fingerprint Scanner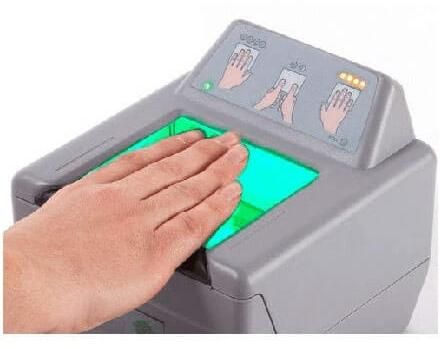 Business Type
Exporter, Supplier, Distributor
Brand
DactyScan84c
Platen Scanning Window
3.3' x 3.2' (86mm x 81mm)
Flat Fingers Scanning Area
3.2' x 3.0'
Click to view more
Product Details
Rolled Fingers Scanning Area
1.6' x 1.5'
Image Size
1600 x 1500 pixels (SLAP) 800 x 750 pixels (ROLLED)
Image Resolution
500 dpi, 256 gray
Acquisition Speed
> 28 fps for slap (Preview mode) > 25 fps for rolled
Dimension
148mm x 152mm x 120mm
Interface
USB 2.0 (Data & Power supply)
Certifications
CE, FCC, RoHS, KCC and ISO 60950-1
Temperature
0°C to 50°C (Operating) -20°C to 50°C (Storage)
Humidity
From 10 to 90% (Non condensing)
Operating System
Windows, Linux, Android
Mounting
Ready to Be Installed On a Counter Top
Antispoofing (ffd/lfd)
Patented GB_FFD software - Option
Additional Software
DactyMatch SW - Option
Download

View
The Dactyscan84c is a compact and FBI app. F certified 10-print live-scan in full compliance with the "10-print capture scanner & software User group requirements" suitable for all applications in need of 4-slaps and rolled acquisition. A user interface based on 12 LEDs facilitates the acquisition procedure by indicating the fingerprint(s) to be acquired and providing quality feedback. Main applications are e-ID document enrollment, Voter registration and criminal background checks.
After a strong effort in terms of research and development, Green Bit, in collaboration with the Department of Electrical and Electronic Engineering of University of Cagliary(*), has developed a Fake finger Detection Solution which can be used with the DactyScan84c in order to identify fake fingers. This solution is software based and does not require any hardware upgrade for the installed base. This package, named "GB_FFD" is fully integrated into the standard Multi Scan-SDK, starting from the v. 4.0 
Features :
Rolled Fingerprint Capturing: display in real-time, self-adaptive to rolling speed and directions, seamless composite image generation, automatic stop detection.
Halo Elimination: elimination of halo due to moist fingerprints during acquisition.
Automatic Sequence Checking: guarantees a correct scanning sequence.
Segmentation: automatic segmentation of four- slap and two thumbs fingerprint images in single flat images.
Correct Position and Slap Completeness Check: checks for correct finger placing; checks for incomplete slaps due to missing fingers.
Slide Detection for Flat Prints: detects deformations of fingerprints due to sliding during acquisition.
Standard Output Format: creation of "ANSI/NIST-ITL-1-2007/2011" type 1, 2, 4 and 14 records - EFTS71 output format support.
Automatic Acquisition Start and Stop: sensing of finger placement and automatic acquisition of the image with the highest quality. Quality thresholds for images can be set through the Multiscan SDK.
Image Quality Checking: dynamic estimation of fingerprint image quality during scanning process; NISTIR7151 quality check.
Artefacts Detection for Rolled Fingerprints: controls for correct rolling of prints indicating artefact areas compromising the fingerprint image
Elimination of Latent Prints: elimination of latent prints originated from recent scans.
Automatic Format Clipping: generation of any required image size according to application requirements.
Automatic Image Rotation: correct rotation of a fingerprint image in accordance with application demands.
Looking for "
DactyScan84c Green Bit Fingerprint Scanner

" ?
Piece